Jamestown, RI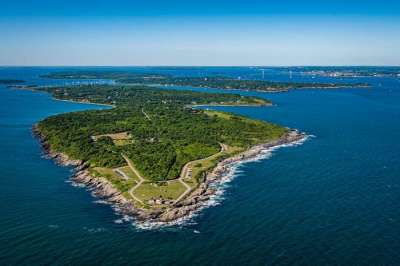 Jamestown properties are located on Conanicut Island, in Narragansett Bay, on an island community that has kept much of its peaceful appeal, with well under 10,000 year-round residents. Summer guests own the majority of the Jamestown real estate.
Jamestown became a popular vacation spot after a ferry service was established in 1873 and remains a popular vacation spot to this day. There are several active farms, historic houses, two waterfront state parks on this quaint tiny island that is just nine miles long by one mile across. There was a lot of building in Jamestown between 1870 and 1900, with forts such Fort Getty, Fort Grebel, Fort Wetherill, Fort Dumpling, and a torpedo station. Some of the remains of these military barracks, as well as other historical buildings in beautiful, scenic locations, are open to the public today. The Jamestown Yacht Club, a gorgeous 9-hole public golf course, public and private beaches, and a wide variety of delightful homes and estates are all enjoyed by Jamestown residents and visitors alike.
Jamestown Homes for Sale

Sorry we are experiencing system issues. Please try again.